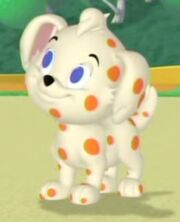 Bella is Clarabelle's pet puppy and a close friend of Pluto. She is voiced by Brad Joseph Breeck.
Personality
Edit
Not much is known about Bella, but she loves to play around with Pluto and loves going places with Mickey and Friends.
Appearances
Edit
Ad blocker interference detected!
Wikia is a free-to-use site that makes money from advertising. We have a modified experience for viewers using ad blockers

Wikia is not accessible if you've made further modifications. Remove the custom ad blocker rule(s) and the page will load as expected.