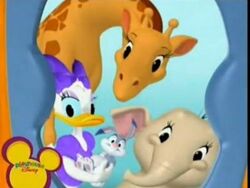 Daisy has trouble finding a pet for the Pet Parade. Can she find a pet or two before the Pet Parade starts? She gets 3 pets which are: 1. A baby elephant named Bubbles 2. A giraffe named Longfellow and 3. A small grey and white bunny rabbit named Captain Jumps-a-Lot. Daisy's Pet Project is the 9th episode from the second season which originally aired on Playhouse Disney on Saturday, April 26, 2008.
Characters
Edit
Mouseketools
Edit
Rubber duckies
Building blocks
A feather
A handy fishing pole
Ad blocker interference detected!
Wikia is a free-to-use site that makes money from advertising. We have a modified experience for viewers using ad blockers

Wikia is not accessible if you've made further modifications. Remove the custom ad blocker rule(s) and the page will load as expected.