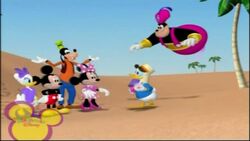 "Donald of the Desert" is the 4th episode from the third season that originally aired on Playhouse Disney on May 8, 2010.
Donald discovers a magic lamp when he travels to a desert to get sand for the clubhouse sandbox.
Mouseketools
Edit
A map
A watering can
Some pillows
A big blanket
Release Dates
Edit
May 8th, 2010 (US)
August 5th, 2010 (UK)
December 30th, 2010 (AUS)
January 28th, 2011 (JAP/GER)
Japan: Donald's Desert
German: Donald and the Sand
Ad blocker interference detected!
Wikia is a free-to-use site that makes money from advertising. We have a modified experience for viewers using ad blockers

Wikia is not accessible if you've made further modifications. Remove the custom ad blocker rule(s) and the page will load as expected.