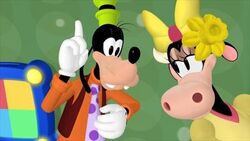 "Fancy Dancin' Goofy" is the first episode from the second season that originally aired on Playhouse Disney on January 26, 2008.
In the first new episode, Goofy and Clarabelle are going together to the Fancy Dance at the Clubhouse but Goofy still has to get ready.
Mouseketools
Edit
A Pair Of Safety Scissors
A Pair Of Shoes
A Ruler
A Drum
Characters
Edit
Toodles (dose not speak)
Mr Krabs
Pearl
This is the first episode of season 2, and to air in 2008. This is also the first episode to use the August 2007 Playhouse Disney logo.