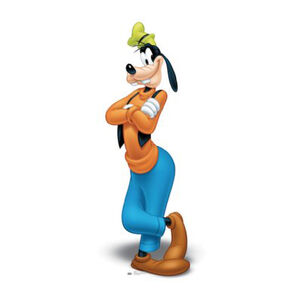 Goofy Goof is one of Mickey's best friends and the boyfriend of Clarabelle Cow (even though Clarabelle loves Horace Horsecollar). Goofy is very clumsy, but very kind which is why the gang puts up with him most of the time.
Goofy info
Edit
Although he is kind hearted, and the gang cares about him, sometimes they can't stand his clumsy personality he is often yelled at by Donald who truly can't stand him at times. He is sweet and lovable.
Goofy has lots of dreams that he wants to come true a lot. In the show Goofy dreamed to win Clarabelle's heart and it succeeded with the help of Mickey and friends. He also wanted to be a knight. His dream was fulfilled when Queen Clarabelle needed someone to gather three objects which is what Goofy did. Goofy marries Clarabelle and has children.
Chef Goofy will appear in Happy Birthday Mickey! DVD.
Clarabelle Cow's Boyfriend
Best friend
Knight
Patient
Singer
Dancer
Magician
Space Captain
Jester (Seen in "Pluto's Tale" and "Prince Pete's Catnap")
Max Goof's Father
Uncle
Husband
Waiter
Host
Farmer
Baby
Chef