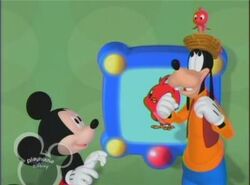 Goofy's Bird is the third episode of the first season. Where's Minnie Mouse, Pluto, Daisy Duck and Donald Duck?
Goofy Needs To Take Baby Red Bird Home To His Mommy.
Mousketools
Edit
Although absent from the episode's main story, Minnie, Donald, Pluto and Daisy are seen for a few seconds from a distance towards a telescope when Mickey scans the forest.
This is the 2nd of 3 episodes on the DVD, Mickey Saves Santa.
Japan: Goofy and the Baby Red Bird
Ad blocker interference detected!
Wikia is a free-to-use site that makes money from advertising. We have a modified experience for viewers using ad blockers

Wikia is not accessible if you've made further modifications. Remove the custom ad blocker rule(s) and the page will load as expected.