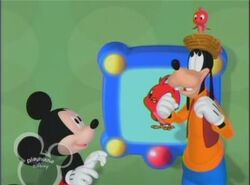 Goofy's Bird is the third episode of the first season.
Goofy Needs To Take Baby Red Bird Home To His Mommy.
Mousketools
Edit
A Pogo Stick - Help Us Reach Mommy Red Bird
A Blanket - Help Us To Keep Baby Red Bird
Blueberries - Help Us To Feed Baby Red Bird
A Slide - Help Us To Get Down The Forest
Although absent from the episode's main story, Minnie and Daisy are seen for a few seconds from a distance towards a telescope when Mickey scans the forest. This episode has the most characters absent.
This is the 2nd of 3 episodes on the DVD, Mickey Saves Santa.
Japan: Goofy and the Baby Red Bird