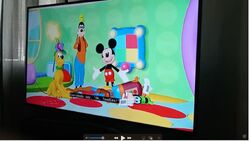 "Goofy's Goofbot" is the 1st episode from the third season which originally aired on Playhouse Disney on February 27, 2010.
Goofy builds a stronger, smarter robot that looks just like himself.
Goofy announces the title of this episode after the opening sequence.
Mouseketools
Edit
A giant marshmallow
A fishbowl
A toolbox
A plunger
Ad blocker interference detected!
Wikia is a free-to-use site that makes money from advertising. We have a modified experience for viewers using ad blockers

Wikia is not accessible if you've made further modifications. Remove the custom ad blocker rule(s) and the page will load as expected.