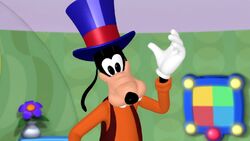 "Goofy's Magical Mix-Up" is the 6th episode from the third season that originally aired on Playhouse Disney on June 19, 2010.
Goofy accidentally makes Pluto's doghouse disappear when he puts on a magic show.
When Mickey wears his red pants during the opening of the episode, they're making Mickey think that there's something extra special happen.
Transcript
Edit
Mickey: Hi, everybody. Isn't it a beautiful day? I bet my pants think somethin' extra special is about to happen.
Mouseketools
Edit
A Cute Little Bunny
A Silk Scarf
A Crystal Ball
Playing Cards