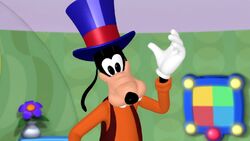 "Goofy's Magical Mix-Up" is the 6th episode from the third season that originally aired on Playhouse Disney on June 19, 2010.
Goofy accidentally makes Pluto's doghouse disappear when he puts on a magic show.
When Mickey wears his red pants during the opening of the episode, the white buttons on them are round. They're making Mickey think that something very special is about to happen.
Transcript
Edit
Mickey: Hi, everybody. Isn't it a beautiful day? I bet my pants think somethin' extra special is about to happen.
Mouseketools
Edit
A cute little bunny
A silk scarf
A crystal ball
Playing cards