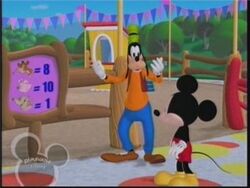 Goofy's Petting Zoo is the twenty-third episode of the first season.
19 animals (8 cows, 10 pigs, and 1 elephant) from the petting zoo escape while Zookeeper for the day, Goofy takes a nap.
March 9th, 2007 (US)
May 23rd, 2007 (UK)
June 6th, 2007 (AUS)
January 23rd, 2008 (JAP)
November 18th, 2009 (NOR)
July 19th, 2010 (GER)
Mouseketools
Edit
A blanket
A bullhorn
A piggy bank
A bunch of peanuts
Ad blocker interference detected!
Wikia is a free-to-use site that makes money from advertising. We have a modified experience for viewers using ad blockers

Wikia is not accessible if you've made further modifications. Remove the custom ad blocker rule(s) and the page will load as expected.