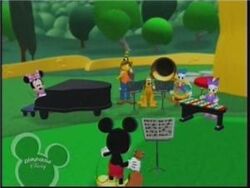 "Mickey's Big Band Concert" is the 6th episode from the second season of Mickey Mouse Clubhouse, which originally aired on Playhouse Disney on March 1, 2008.
Mickey and friends practice their band's music for the Mickey Park Polka-Palooza Dance Festival where the elephants will dance the Pachyderm Polka. (The Sensational Six: Mickey on ukulele, Donald on sousaphone, Minnie on piano, Daisy on xylophone, Goofy on trombone, and Pluto as metronome), but their instruments need to be fixed (Minnie's Piano have the wrong pitch, Goofy's trombone slide is stuck, Daisy's xylophone is falling apart, Mickey's ukulele strings are out of tune, Donald's papers blow away).
Mouseketools
Edit
A bicycle pump
A clothespin
A rocket ship
A pitch pipe
Ad blocker interference detected!
Wikia is a free-to-use site that makes money from advertising. We have a modified experience for viewers using ad blockers

Wikia is not accessible if you've made further modifications. Remove the custom ad blocker rule(s) and the page will load as expected.