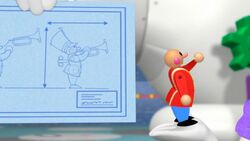 "Mickey's Little Parade" is the 13th episode from the third season which originally aired on Playhouse Disney on December 20, 2010.
Mickey and his pals search for three wind-up toy musicians after they run about due to being wound too tight just before a parade appearance.
Mouseketools
Edit
A magnet
A slide
A butterfly net
A cowboy hat
Wilbur
Baby Red Bird
Baby Sheep
Pete
Ad blocker interference detected!
Wikia is a free-to-use site that makes money from advertising. We have a modified experience for viewers using ad blockers

Wikia is not accessible if you've made further modifications. Remove the custom ad blocker rule(s) and the page will load as expected.