Mickey Mouse Clubhouse:Mickey's Campfire Sing Along is a special.
It would be premiere on October 10, 2014.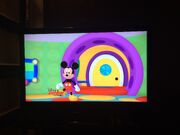 October 10, 2014.
Character Present
Edit
Mickey Mouse
Minnie Mouse
Donald Duck
Daisy Duck
Goofy
Pluto
Chip
Dale
Pete
Toodles
Humphrey the Bear
Woodpecker
Mousketools
Edit
A Handy Crane
Binoculars
Bouncy shoes
Balloons
Mickey Mouse Clubhouse Theme Song
The Mouskedour Song
A Camping We Will Go
Comin' 'Round the Moutain
The Caissons Go Rolling Along
Little Cabin in the Forest Green
The Ants Go Marching
Don't Fence Me In
The Bear Hunt
The Happy Wanderer
When the Saints Go Marching In
Country Roads
I've Been Eaten By A Tyranasoruses Rex
The Other Day I Met a Bear
Are You Sleeping?
Goodnight Campers
The Hot-Dog Dance
Bret Iwen as Mickey Mouse
Russi Taylor as Minnie Mouse
Tony Anselmo as Donald Duck
Tress MacNeille as Daisy Duck, Chip
Bill Farmer as Goofy, Pluto
Corey Burton as Dale
Jim Cummings as Pete, Humphrey the Bear
Rob Paulsen as Toodles
Frank Welker as Woodpecker
Transcript
Edit