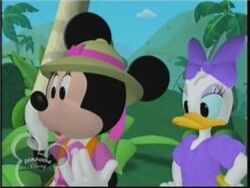 Mickey and Minnie's Jungle Safari is an episode from the second season.
Minnie wants to have a picture of a hula hibicus to complete her flower picture collection, but she has only one day to get it, when it is in full bloom. She will need help from all her Clubhouse friends to get to where the flower is located Mickey and Donald and Mickey asks friends.
Characters Present
Edit
Toodles has another task, besides holding on the Mousketools. It has the tak of becoming a "Mousekamap" as well.
Mousketools
Edit
A pair of Pete's big pants
Minnie dosen't want her white underwear wet, but she's wearing her pink dress.
Besides holding the mousketools, Tootles also has the ability of holding the Mouskemap.
End Credits
Edit
Ad blocker interference detected!
Wikia is a free-to-use site that makes money from advertising. We have a modified experience for viewers using ad blockers

Wikia is not accessible if you've made further modifications. Remove the custom ad blocker rule(s) and the page will load as expected.