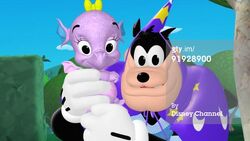 Mickey and the Enchanted Eggs is an episode from the second season.
Mickey finds an egg that hatches a baby dragon, and he tries to return the dragon to its home and prove to Wizard Pete that he did not steal it to make it hot.
This episode aired in the UK and Ireland on August 4, 2009.
This episode honors the 75th anniversary of Donald Duck.
Mouseketools
Edit
A Music Box - Help Us To Get The Baby Dragon To Dance
A Slide - Help It To Shore Down The River
A Spotlight - Help Them Shadow Light From Pyramid Prism
A Mirror - Help Then Giant Toad Of The Road