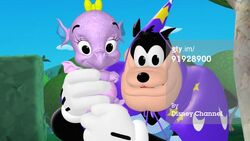 Mickey and the Enchanted Eggs is an episode from the second season.
Mickey finds an egg that hatches a baby dragon, and he tries to return the dragon to its home and prove to Wizard Pete that he did not steal it to make it hot.
This episode aired in the UK and Ireland on August 4, 2009.
This episode honors the 75th anniversary of Donald Duck.
Mouseketools
Edit
A musicbox
A slide
A spotlight
A mirror
Ad blocker interference detected!
Wikia is a free-to-use site that makes money from advertising. We have a modified experience for viewers using ad blockers

Wikia is not accessible if you've made further modifications. Remove the custom ad blocker rule(s) and the page will load as expected.