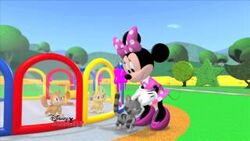 "Minnie's Pet Salon" is the third episode of the fifth season of Mickey Mouse Clubhouse, which will air on Disney Junior on November 22, 2013.
Minnie and her pals prepare their pets for Pluto's All-Star Pet Show at Minnie's Pet Salon.
Mouseketools
Edit
A jar of fireflies
A beach towel
A baby elephant
A sock with polka dots
The US DVD releases on May 26th, 2015. The AUS releases on May 4th, 2016. The UK DVD releases on May 23rd, 2016.
Ad blocker interference detected!
Wikia is a free-to-use site that makes money from advertising. We have a modified experience for viewers using ad blockers

Wikia is not accessible if you've made further modifications. Remove the custom ad blocker rule(s) and the page will load as expected.