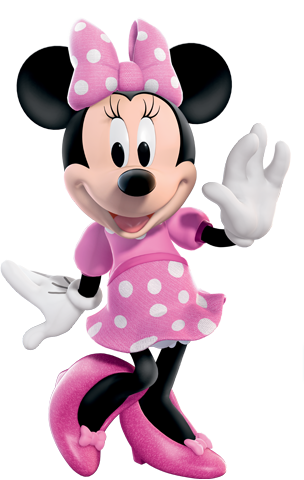 Minerva "Minnie" Mouse is one of Mickey Mouse's friends in the clubhouse. She is Mickey's girlfriend and Daisy Duck's best friend. Minnie Mouse is very smart and loves to have fun. She can be very disappointed when someone forgets about her special occasions such as birthdays and her favorite holiday, Valentine's Day.
Minnie Mouse Information
Edit
Minnie Mouse is very smart and is usually the brains of The Sensational Six group of friends. Although Mickey Mouse is the leader, he along with everyone else will listen to her when she has a solution to a problem. She currently owns a store called Minnie's Bow-Tique.
Martian Minnie will appear on Happy Birthday Mickey! DVD.
Personality & Appearance
Edit
Minnie Mouse is very sweet, beautiful, kind and generous. She wears a large bow on her head, white gloves, frilly white panties, different colored polka-dotted skirts or dresses and matching high heel pumps. In Minnie's Pajama Party and A Goofy Fairy Tale, she wears pink pajamas with white polka dots on them and her pink cat slippers. She can get upset sometimes but not often. She love to dance and sing and enjoys her friends company.
Mickey Mouse's Girlfriend
Detective
Daisy Duck's Best Friend
Dancer
Singer
Patient
Sidekick
Leader
Witch
Princess
Painter
Cowgirl
Farmer
Owner of Figaro & Minnie's Bow-Tique 
Baby
Gardener
Party Planner
Superhero
Voice Actresses
Edit
Marie-Charlotte Leclaire (France)
Mizutani Yuko (Japan; first season only)
Aya Endo (Japan; second season onwards)
Diana Santos (Latin America)
Diana Borgwardt (Germany)
Kiti Kokkonen (Finland)
Beata Wyrąbkiewicz (Poland)
Mabel César (Brazil)
Nonia de la Gala (Spain)
Sandra de Castro (Portugal)
Yeong Seon Eun (South Korea)
Mezei Kitty (Hungary)
Dorina Chiriac (Romania; first season only)
Adina Lucaciu (Romania; second season onwards)
Saule Tentievna (Russia)
Lizette Pålsson (Sweden)
Sylvia Rusinova (Bulgaria)
Minnie Mouse wears a flower hat (1920s - 2013 Mickey Mouse television series) and a big bow (1940s - present).
Her favorite color is pink.
She owns a black and white kitten named Figaro.
She's easy to upset.
She usually gets upset when Donald Duck acts stubborn.
She loves to kiss Mickey Mouse, and loves to hug him.
She loves Valentine's Day.
She can play the piano.
She can sing and dance with Mickey Mouse.
Her own television series, Minnie's Bow-Toons is on Disney Junior.
She loves Mickey Mouse but her best thing are her bows and Bow-Bot.
Minnie Mouse occasionally has shown anger to Daisy Duck before, but this was in the earlier television series.