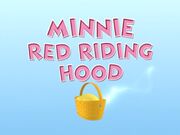 Minnie Red Riding Hood
is the eighteenth episode of the first season.
Goofy gets a fever while camping. Minnie plans to bring some of her "Minnie-strone soup" so he cannot feel sick.
Characters Present
Edit
Mousketools
Edit
November 6th, 2006 (US)
December 18th, 2006 (UK)
February 8th, 2007 (AUS)
July 5th, 2007 (JAP)
Pete Timder [Pete Fall Down In The Mud]
Mickey Say Thanks For Your Helping To Get The Soup Minnie Goofy Has A Cold Pete I Want Soup [Crying]
This is the 3rd of 4 episodes on the DVD, Mickey's Storybook Surprises
Wow The 2005 Logo Have From 2004 Junior Jumping Into A Puddle
Minnie's soup
you will need
2 onions
6 potatos
8 tomatos
some of your favorite spices
and heat it up for 15 seconds
Nick jr Puddle Logo Is For 2006
Allusions
Edit
Title: Minnie Red Riding Hood - The title is a play on the fairy tail, Little Red Riding Hood.
Ad blocker interference detected!
Wikia is a free-to-use site that makes money from advertising. We have a modified experience for viewers using ad blockers

Wikia is not accessible if you've made further modifications. Remove the custom ad blocker rule(s) and the page will load as expected.