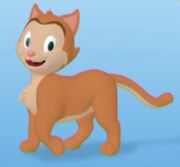 Mr. Pettibone is Goofy's pet kitten who first appeared in Mickey Goes Fishing.
Personality
Edit
Mr. Pettibone is very playful and anything it finds exactly what he will try to play with. In Mickey Goes Fishing , Mr. Pettibone attempted to play with a rope and it woke Pete up. Mr Pettibone was also shown to be afraid of Pete.
Relationship
Edit
Goofy - Mr. Pettibone is one of Goofy's best friends and probably his most beloved friend. He's also Mr. Pettibone's owner.
Mickey - Mr. Pettibone has grown a liking to Mickey since his first appearance.
Pluto - Pluto did not like Mr. Pettibone at first but soon grew a liking
Figaro- Mr. Pettibone hasn't made friends with him before until 1 day, Daisy's small grey and white bunny rabbit Captain Jumps A Lot got into a conflict with him and Figaro by leaving a trail of blue paint.
Mr. Pettibone also appeared in Daisy's Pet Project once again as Goofy's pet for the big Pet Parade.
Mr. Pettibone made his third appearance in Pluto Lends A Paw once again as Goofy's pet. He is seen playing with Figaro.
Ad blocker interference detected!
Wikia is a free-to-use site that makes money from advertising. We have a modified experience for viewers using ad blockers

Wikia is not accessible if you've made further modifications. Remove the custom ad blocker rule(s) and the page will load as expected.