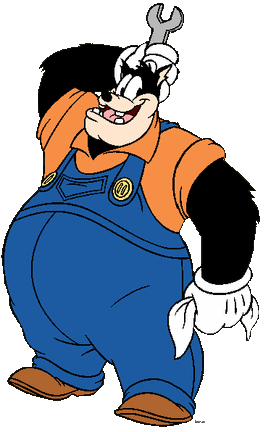 Pete is a big cat who always bothers Mickey and friends. Pete is the series' main antagonist.
Personality
Edit
Pete is a little dumb. He loves money and food. Pete is also messy which was pointed out by Mickey Mouse in The Friendship Team. Even though he can be bad at times he likes to hang out with Mickey and friends at times.
Pete Info
Edit
In the series Pete scams the group of friends. If Mickey, Donald and Goofy try to enter a certain place Pete will pop out and tell the Gang they will have to pay him with things such as Beans or Coins. When that happens the friends usually gets very annoyed.
Theft
Con artist
Friend
Enemy
Martian
Astronaut
Dancer
Actor
Caveman
Princess
Leprechaun 
Chicken
Prince
Father
Car Dealer
Husband
Space Captain
Pirate
Clown
Dragon
Wizard
Chef
Landlord
Photographer
Son
Brother
Nephew
Cowboy
Grandson
King
Cook
Cameraman
Witch
Plundering
Power Pants
Diver
Pete Likes to play with yarn
Pete can be distracted by bubbles
Running gets Pete hungry
Pete's real name is Peter.
In the earliest Mickey Mouse series of the 20's, Pete was named Peg-Leg Pete.
Hello I'm Pete My day is a favorite Let's get to work Can I help?