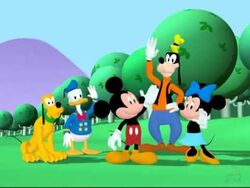 "Space Suit" is the pilot episode of Mickey Mouse Clubhouse.
In the series' pilot episode, Mickey and his friends pretend to go to space.
2005 (​US)
June 3rd, 2006 (UK)
July 7th, 2006 (AUS)
November 8th, 2006 (US)
April 1st, 2007 (RUS)
January 1st, 2014 (HUN)
The pilot episode has different animation than the series. Mickey Mouse skin is peacher than usual. Minnie Mouse dress is blue instead of pink. Goofy vest is black instead of brown. Donald Duck have buttons on his shirt than usual. Daisy Duck does not appear in the pilot. The clubhouse is blacker than usual. There no music or sounds in the pilot.
Ad blocker interference detected!
Wikia is a free-to-use site that makes money from advertising. We have a modified experience for viewers using ad blockers

Wikia is not accessible if you've made further modifications. Remove the custom ad blocker rule(s) and the page will load as expected.