Taranza Is A Puppeteer Girl A K A Spider Girl She's Beautiful And Amazing And She Loves Puppets And Puppet Master She Kidnaps And Possessed King Dedede In Kirby Triple Deluxe And At The Ending She Felt Sorry That She's So Sneaky And Kidnapped King Dedede She's Promise To Be Good From Now On. And She's Nice In Mickey Mouse Clubhouse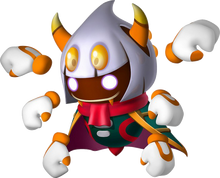 Ad blocker interference detected!
Wikia is a free-to-use site that makes money from advertising. We have a modified experience for viewers using ad blockers

Wikia is not accessible if you've made further modifications. Remove the custom ad blocker rule(s) and the page will load as expected.