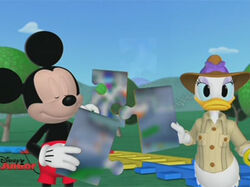 "The Golden Boo-Boo" is the 32nd & last episode from the third season which originally aired on Disney Junior on September 28, 2012.
Mickey and Daisy dressed as a detective are on a mission to search for the golden statue of Boo Boo Chicken, before Pete gets to it first. With the help of Minnie, Donald, Ludwig Von Drake, Goofy  Clarabelle Pluto Daisy Pete Chip N Dale Mickey
This episode aired in the UK on March 10, 2012.
This is the last episode to date to feature Wayne Allwine as Mickey Mouse. Bert Iwn will later take over of his role in the fourth season onwards.
This is the last episode to be dubbed in Welsh to date.
This is the last episode to feature Wayne Allwine to date. Bert Iwn will start taking over from the fourth season.
This is the last episode to have Pete's dessert and the handy dandy machine to date.
Mouseketools
Edit
Giant roller skates
A ball of yarn
Birdseed
Shape keys
Ad blocker interference detected!
Wikia is a free-to-use site that makes money from advertising. We have a modified experience for viewers using ad blockers

Wikia is not accessible if you've made further modifications. Remove the custom ad blocker rule(s) and the page will load as expected.